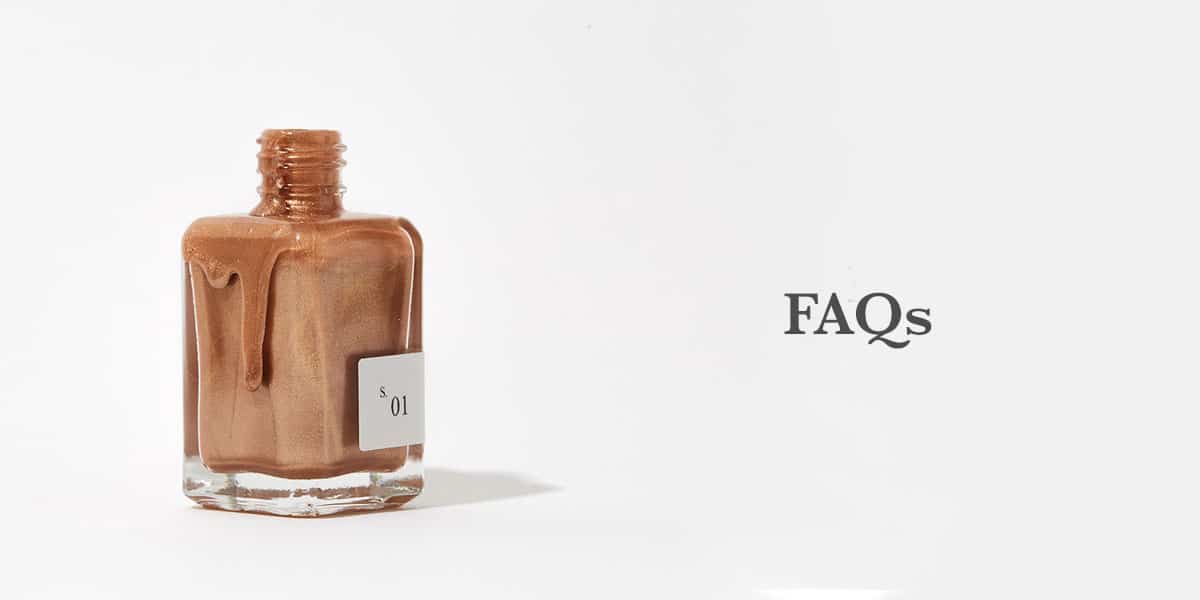 Our Products
Not only are we strong advocates for self-care and wellness, we pay special attention to all the ingredients of our polishes. After a year of careful studying and testing, we perfected our non-toxic salon-grade formula that does not sacrifice health while delivering a gorgeous shine and long-lasting color. We also carry candles, guided meditations, and nail care essentials that help create a multi-sensory wellness experience in the comfort of your home. 
We strive to make clients look good and feel good with our mindful products and services. No compromises.
Our polishes are formed without ten potentially health-harming chemicals commonly found in nail polish. Click here to learn more! 
Our non-toxic polish formula: butyl acetate, ethyl acetate, nitrocellulose, adipic acid/neopentyl, glycol/trimellitic, anhydride, copolymer, acetyl tributyl citrate, isopropyl alcohol, stearalkonium bentonite, acrylates copolymer, styrene/acrylates copolymer, silica, benzophenone-1, and trimethylpentanediyl dibenzoate.
Our nail polishes are manufactured in the USA, and our candles are manufactured in China. We follow ethical and fair trade practices with our suppliers.
Yes, none of our products and ingredients are derived from animals, and they have not been tested on animals.
Our products are safe to use during pregnancy and after birth, as well as with little furry ones. That being said, we recommend speaking with your doctor and taking the precautionary measures that you see fit. We want you to feel comfortable using the right products for your little ones! 
Our online store carries all of our products! We are also stocked around the globe, and you can find the full list of stores, salons, and spas here.
Nail polish and top coats thicken over time when they are exposed to air. It's important to always tighten the cap after use and clean the bottle's neck to prevent air from getting in and thickening the liquid. We recommend using polish remover and a paper towel to clean the bottle neck.
Our Studios
We currently have three locations in New York City: NoMad, Hudson Yards and UES at Sage & Sound. You can check them out and book an appointment here! 
Because we're committed to creating a safer salon environment, we politely ask that if you bring your own nail polish to use at sundays that it be a non-toxic formula.
We understand that life gets busy and last-minute changes can happen. If you need to change or cancel your appointment, please give us a call or leave a voicemail (if the salon is closed). Also, you can easily cancel or change your appointment through your account online.
Time is important to everyone and we take your appointment seriously. With that said, we reserve the right to charge a 20% cancellation fee for clients who are no-shows or cancel under 12-hours before their scheduled appointment.
Yes. We accept tips on card, cash or venmo.
Orders & Shipping
We accept credit and debit cards for our online store, and we recently added Afterpay and PayPal.
In our studios, we accept credit and debit cards as well. We are limiting our cash usage in our studios, and all transactions will be handled by our front desk manager, who will be wearing and changing gloves constantly throughout their shift.
Yes! We offer free shipping on all orders above $60 within the U.S. Otherwise, our shipping rates depend on the distance and weight, but our average is $9 for orders within the U.S. and $25 for international orders, as we use USPS Priority or UPS.
We offer worldwide shipping from our headquarters in New York City and warehouse in upstate New York.
We process all orders on business days, Monday to Friday, not including holidays. We try our best to ship orders in 2-3 business days. Our processing time during holidays might be extended to 4-5 business days. For more information please email info@dearsundays.com
Orders are delivered usually between 1 to 5 days after they are shipped. International orders may take up to 10 days. 
We currently ship to all 50 U.S. states, U.S. territories, and internationally!
After we have shipped your order, we will send you an email confirmation with a link for tracking information.
Domestic sales tax will be applied to all orders.
We use USPS and UPS to ship.
Unfortunately, we cannot add/remove items to your order once you receive your order confirmation, however, we may change your address, email, and add notes. We are able to cancel your order. Please email us as soon as possible with your full name, order number and the subject line "Cancellation" or "Order Modification", and we'll do our best to assist you!  
We reply to all emails within 72 hours in the order it has been received.
Returns & Exchanges
We accept return on damaged or defective products. We cannot exchange any product based on personal color choice. We will process the refund as soon as we receive the product, and this will take approximately 7 to 10 days.
We are only able to replace a damaged or defective product. We do not exchange products based on color change. We will process the exchange as soon as we receive the product, and this will take approximately 7 to 10 days.
Please write to info@dearsundays.com and we will help resolve and send you a replacement.
For additional help, please email support@dearsundays.com. We'll get back to you within 1 to 2 business days!